Swarovski Elements.

Jewels 4 Girls makes many items of personalised jewellery using Swarovski Elements crystals.

"Swarovski (swor-ov-ski) Elements" is the brand name for a range of luxury, precision cut, lead crystal glass products. Swarovski crystal was first created in 1892 by Daniel Swarovski who invented a unique, precision cutting machine, which he patented.

Swarovski beads are superb quality. They have a weight and flawless finish which gives them a look and feel unlike any other beads. They are well known for their brilliance and light reflecting properties.

To make them extra special Swarovski adds iridescent coatings to some of it's crystals. Aurora Borealis, or "AB", is one of the most popular coatings. It adds a special light refracting effect to the surface which makes each bead sparkle with a wonderful array of colours.
Swarovski Crystal Colour Chart.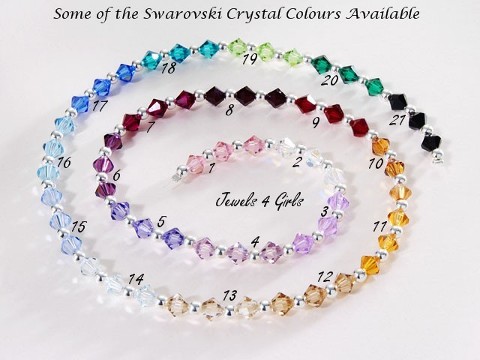 1.Light rose pink, 2.Clear (Aurora Borealis), 3.lilac, 4.light amethyst, 5.tanzanite, 6.amethyst, 7.ruby, 8.garnet red, 9.siam red, 10.crystal copper, 11.topaz, 12.colorado topaz, 13.golden shadow, 14.light azore, 15.light sapphire, 16. aquamarine, 17.sapphire, 18. turquoise , 19.peridot, 20. emerald, 21. jet black.
The colours above are the main colours we have in stock. We regularly have other colours and are happy to order in other colours for a nominal charge.
We also stock fuchsia / hot pink crystals for bracelets and necklaces which can be seen in many of our jewellery photos.

Swarovski Pearl Chart
1. White, 2. Ivory, 3. Pale pink, 4. Rose, 5. Gold, 6. Mauve/lilac, 7. Light blue, 8. Navy (midnight blue), 9. Bronze, 10. Chocolate Brown, 11. Black, 12. light grey.